Aerosol and Pressurized Packaging Virtual Classroom
News,
Published on February 21, 2022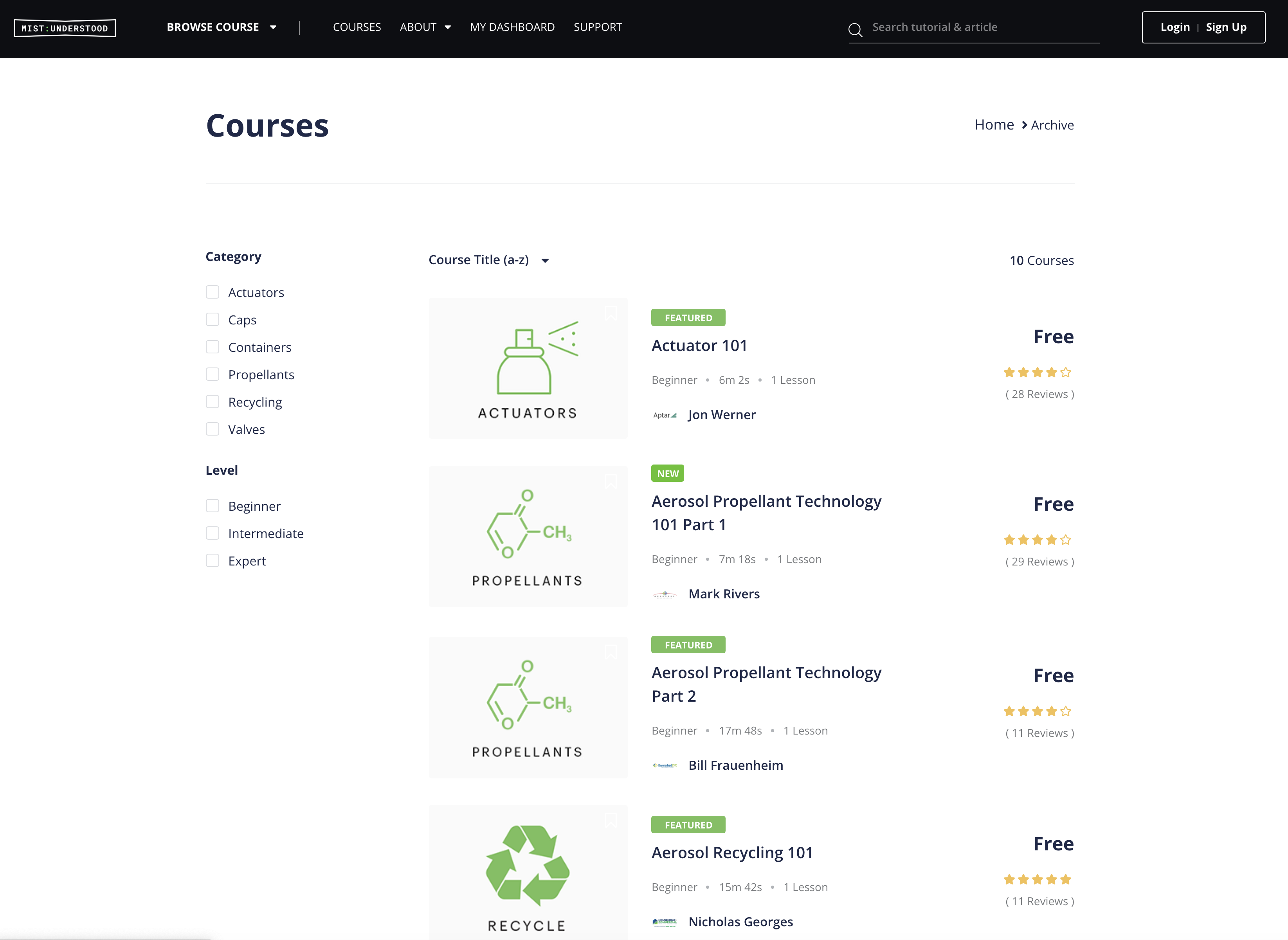 United States aerosol associations collaborated with global suppliers and trusted organizations to provide educational courses on the aerosol and pressurized packaging category via a modern online platform.
The Virtual Classroom launched with a range of beginner level 101 courses, covering topics like Containers, Propellants, Caps, Actuators, Valves, and Recycling. All content was created by trusted industry leaders like Aptar Home and Beauty, Montebello Packaging, Aeropres Corporation, Honeywell, Diversified CPC International, The Chemours Company, eStyle Caps and Closures, Silgan Dispensing Systems, Rackow Polymers, Lindal Group, and the Household & Commercial Products Association.
Additional courses will continue to be uploaded to the platform in the future, and every participant who successfully completes a free course will receive a digital certificate of completion that can be easily shared with their employer, or on social media platforms like LinkedIn.
"We are so excited to have spearheaded and launched this critical initiative. Aerosol and pressurized packaging provide such invaluable benefits to consumers in so many categories, but understanding the technical aspects is often complicated. With this effort we hope to not only demystify this world, but also spark excitement on what can be possible when using aerosol or pressurized packaging technologies," said Lorne Lucree, WAIB Board Member and an organizer of the initiative. "From topics ranging from componentry to recycling the Virtual Classroom will provide a no cost, convenient place of learning leveraging some of the industries most qualified experts, to educate everyone ranging from industry employees to product developers."
The idea was inspired by the growing significance of online learning platforms and massive online open courses (MOOCs) like Coursera and Google Garage that have seen explosive growth as consumers have become more interested and excited by free, open online learning.
"When the idea of creating an online aerosol educational tool was first suggested I became inspired by my own positive online classroom experience at Google Digital Garage. With the global population now more and more online, the Aerosol and Pressurized Packaging Virtual Classroom provides easy-to-follow presentations telling the stories behind the information those of us in the industry sometimes take for granted," said Mary Metzner, WAIB Administrator.
The initiative is the result of a first-of-its-kind collaboration between all US based aerosol associations to further support the industry.
Joe Bowen, NAA President and one of the organizers of the initiative, added "The NAA is very grateful for the hard work and cooperation that has accomplished the development of an online Aerosol and Pressurized Packaging Virtual Classroom. This represents a very important new on-demand video tool for the aerosol industry to provide education to new team members at our companies."
The Aerosol and Pressurized Packaging Virtual Classroom can be accessed here.
For more information on the National Aerosol Association, as well as the Regional Aerosol Associations, see below:
National Aerosol Association: Joe Bowen, President
Western Aerosol Information Bureau: Lorne Lucree, President
Midwest Aerosol Association: Ryan Montgomery, President
Eastern Aerosol Association: Dennis Smith, President
Southern Aerosol Technical Association: Ruben Morales, President