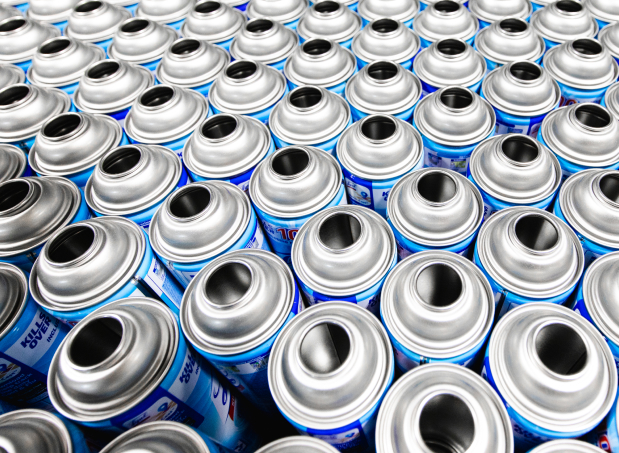 Complete, full-service aerosol formulation and packaging.
Flexibility is the key to our success. With multiple filling lines, our facility has the ability to handle any unique requirements. With high-speed rotary lines, roll-fed labeling, aluminum can handling, twin-pack shrink sleeving, bundling, indexing and even travel-size can capabilities, there's no product we can't package.
We have multiple dedicated tank farms and associated formulation rooms for our filling lines, and we're capable of multiple concentrate filling and special formulation blending. Each dedicated blending room is equipped with stainless steel mixing tanks on load cells with varying types of agitation capabilities. No matter your aerosol needs, Aerofil has it covered.
As an alternative to printed cans, Aerofil has the ability to offer our customers high-speed, roll-fed labeling. The strategic placement of our labeler allows us the ability to label any type of product, regardless of propellant choice.
The installation of a high-speed shrink sleever, accessible from two separate aerosol filling lines, allows us the ability to offer our customers added value and marketing options. The shrink sleever has the ability to sleeve individual cans or create twin-packs, on-line.
Our two high-speed bundlers allow us to offer customers a number of packout configurations without having to double handle product off-line. This allows us to keep labor costs low, and your costs low, while still meeting all your requirements. This equipment allows us to run club-packs without double handling the product.
Our optimal propellant systems are capable of handling hydrocarbons, DME, 152a, 1234ze, nitrogen and CO2. The propellant tank farm at Aerofil has 177,000 gallons of propellant storage.
Aerosol Filling Capabilities
Five automated high-speed rotary aerosol filling lines.

High-speed aluminum can packaging capabilities.

Three indexing aerosol filling lines that provide maximum flexibility for any type of product or special packaging.

Reliable safety systems to comply with all environmental standards, propellant charging protocols and regulatory requirements.

EPA registered