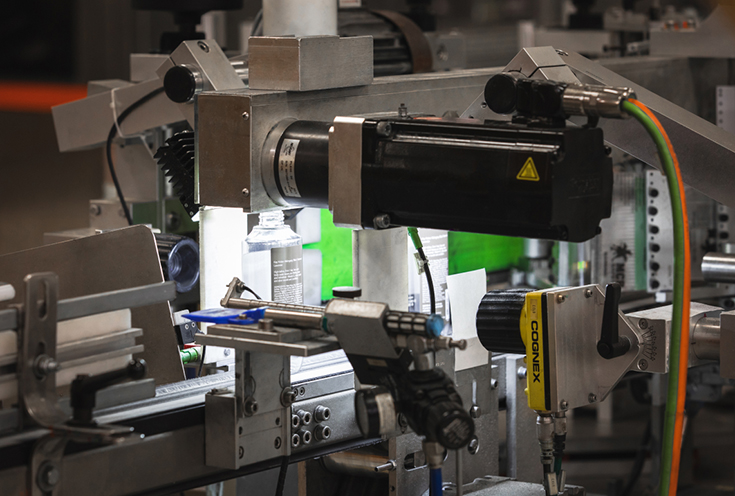 Formulation and packaging for any liquid product.
From flammable solvents to water-based formulas, we have the expertise to handle all your liquid filling needs, from formulation to packaging. Our multiple liquid filling lines all offer something unique and the ability to handle a wide range of products and sizes, from one ounce to one gallon. Our Liquid Line 6 was even featured on the cover of Packaging Digest, named as one of the Top 8 Packaging Lines in the United States. Liquid Line 6 is a fully automated, high-speed filling line featuring a 30-head mass flow filler with a mono-blocked capper and trigger inserter.
In addition to our state-of-the-art filling lines, our formulation room has stainless steel tanks with side sweeps, a small tank for pilot batches and heating and cooling capabilities.
Our pneumatic scale 30-head mass flow filler is the showpiece of Liquid Line 6. With a +/- accuracy of 0.1 grams, we ensure the highest degree of fill accuracy available.
Liquid Line 6 features a capper/trigger inserter mono-blocked to the filler and is rated for 150 bottles per minute.
The Pago Dual Head Labeler is equipped with a vision inspection system to ensure the correct placement of both front and back labels. Dual heads allow the line to run continuously while rolls of labels are changed.
We utilize a robotic palletizer to cut down on labor charges and increase efficiency. Product goes from the palletizer to our robotic stretchwrapper, then directly onto a trailer for shipping.
Liquid Filling Capabilities
One high-speed, fully automated 30-head rotary filler with mono-blocked trigger/cap insertion.

One line featuring two rotary fillers with 20 heads that fill from eight ounces to 1 gallons, depending upon your packaging needs.

One line featuring an inline filler, and a mini-filler that is capable of running small, very accurate fills.

EPA registered

Labeling capabilities include pressure sensitive and cold glue applications.

Induction sealing and lot code identification, including time stamp, are also available when required.